The Portsmouth Round is the mainstay of the Winter Archery Season.
It is mainly an indoor round shot over twenty yards on a 60cm face using ten-zone scoring.
There are several competitions that we take part in using the Portsmouth Round.
The Bowmen of Danesfield run a monthly Handicap Competition where archers of all abilities, ages, bow types etc., can compete together.
We give out awards for scoring achievements to help the archer's progression.
SCAA run a Winter Postal Portsmouth Competition among the majority of clubs in Somerset. SCAA Postal Competitions
As a Club, we also participate in the Virtual Archery League run between many archers nationwide. Virtual Archery League
SCAA Indoor Champs uses the Portsmouth round annually, and several of our archers participate.
The Maximum possible score is 600; however, according to Archery GB UK National records, nobody has achieved that yet, the closest being 599.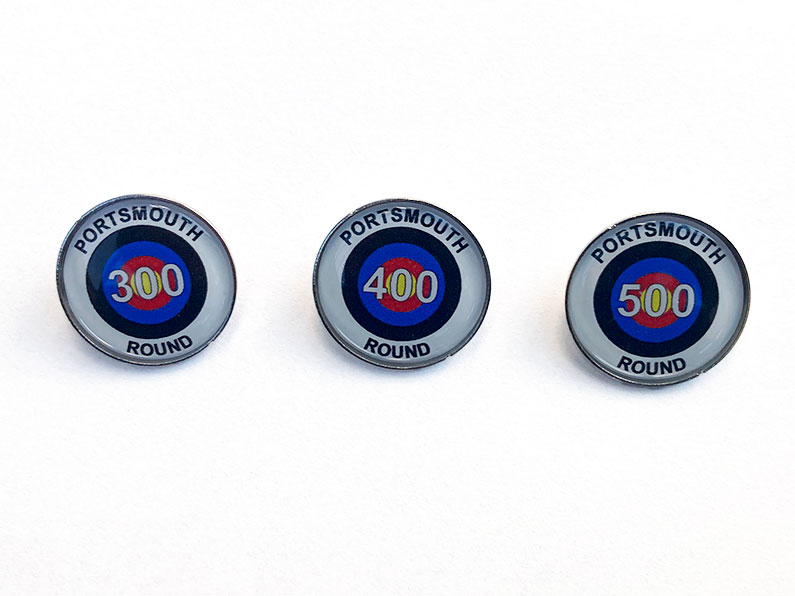 After six sighters, shooting three arrows at each end, you shoot 5 dozen arrows on a 60cm face at a distance of 20 yards, again using three arrows per end. This round is unusual in imperial rounds because you use ten-zone scoring, with only the ten counting as gold.
Download a club Portsmouth score sheet
Five dozen arrows are to be shot in batches of three per end.
The round is shot at the specified distance of 20 yards using 10-zone scoring on a 60cm target face.
Compound Bows will use a three-spot face.
Six sighter arrows are permitted, shot three per end, which will not count towards the final score.
The score sheet is to be witnessed by at least one other club archer, who will record the scores, then sign and print their name on completion as confirmation.
Score sheets should be submitted to the records office on the official submit your scores form. Submit Score
Badges are to be awarded when achieving above each of the specified benchmarks. 300, 350, 400, 450, 475, 500, 525, 550, 575, and 580.
Score beyond 590, and you will receive a club trophy.
The Portsmouth Classifications
The Portsmouth Personal Bests
This is the current list of our archer's Personal Bests