Tier 2 Return to Archery
Tuesday - Wednesday - Thursday - Sunday
Tier 2 – Indoor Shooting: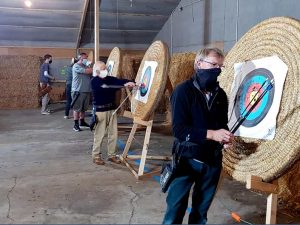 During the week in the winter season, we will be shooting indoors at our new venue in Stogursey. Most of our archers will be shooting a Portsmouth round.
Because of Covid-19 like all indoor venues, it is limited to the number of people who can shoot at any one time, but we do have the opportunity here of opening up more shooting sessions if required.
Full location details will be sent in your booking confirmation email.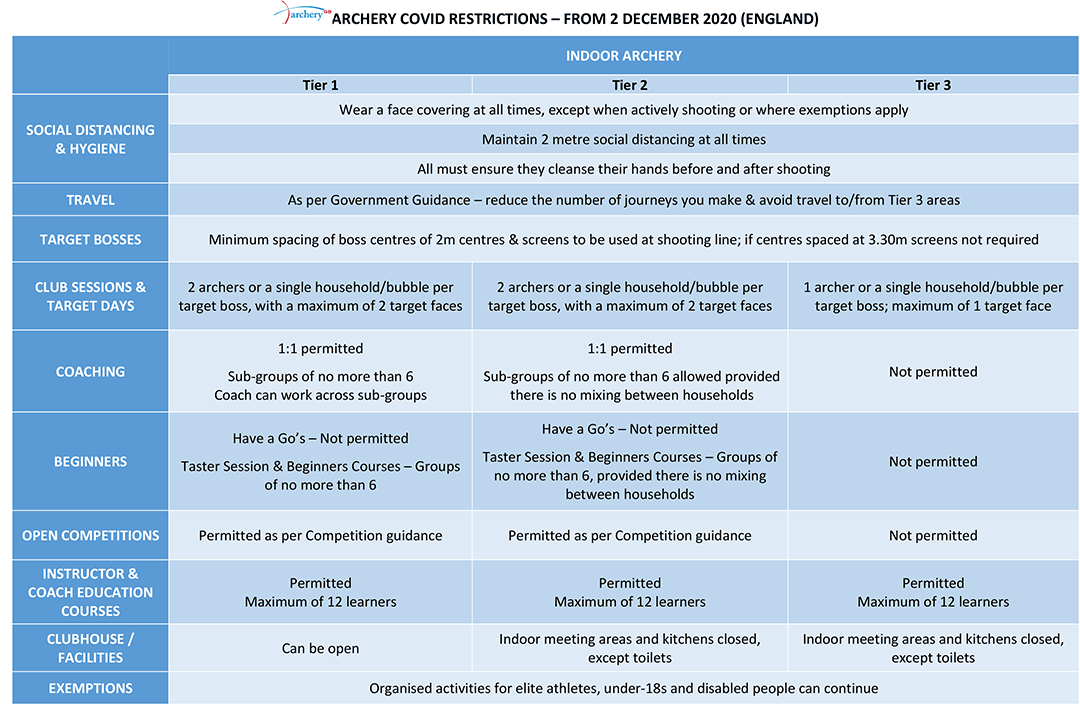 Tier 2 – Outdoor Shooting:
On Sundays, we will continue to shoot on the field at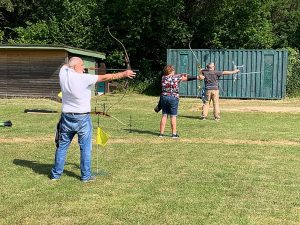 Danesfield school most archers will be shooting a Frostbite Round.
The targets are spaced apart and as we have much more space available so can accommodate many more archers at our outdoor sessions.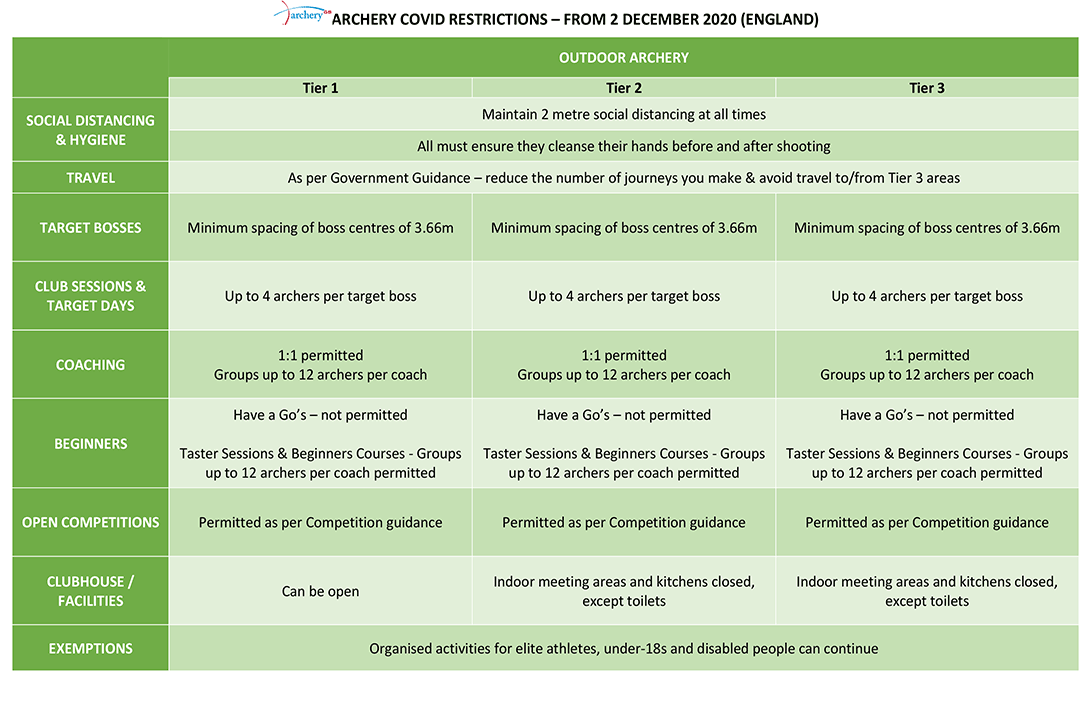 –  
The Latest Covid Changes.
Under strict guidance from Archery GB, we are able to shoot indoors and outdoors. The rule of six does not apply to the number of archers who can attend but does apply to any archers wanting to congregate in social groups before or after. All archers must follow the guidelines.
Tuesday, Wednesday, Thursday – Indoors.
Sunday – Outdoors (except when the weather does not allow)
Booking is Essential.
The main points to note: There are rules issued by the Government and Archery GB it is important for everybody's safety that we obey those rules and exceed them where we can.
Facemasks must be used indoors except when shooting.
Socially Distance and hand sanitiser.
The layout of the field.
If you wish to shoot, please complete the booking form.
Outdoors each archer will be responsible for putting out and putting away their own boss. Indoors the bosses are permanently in place at 20 yards.
Bosses to be set up at least 3.66 metres between centres.
If an archer misses the target, only they can look for their arrow.
Outdoors there is one metal detector available which must be wiped with sanitiser before and after use.
One archer per target, unless you are from the same household.
Distances to be 30 metres or shorter – mainly for Frostbite Round.
Prior to the days shoot the layout of the field will be sent out via WhatsApp.
On arrival at the field at Danesfield School.
Arrive 15 minutes before the starting time to enable you to set up your boss and equipment before the shooting time.
Entry to the field is a one-way system – Come in the usual way between the back of the Performing Arts Building and the green container and leave in front of the Performing Arts Building.
Scan the NHS contact tracing QR code each time you visit.
Take all your possessions to the equipment line 5 metres back from the shooting line. This is normal, shooting practice — Yellow Flags.
Shooting to commence once all the bows are on their stands ready for shooting.
On arrival at the Stogursey Indoor Venue.
The first person to enter the building is responsible for switching on the electrics – please bring a torch with you.
Scan the NHS Contract Tracing QR code each time you visit.
Arrive 15 minutes before starting time to enable you to set up your equipment. Please keep this setup to a minimum.
Shooting to commence once all the bows are on their stands ready for shooting.
Shooting.
Decide who will be field captain and work to the whistle.
Rounds will start promptly at the allotted time.
After shooting your first half dozen arrows step back away from the line and wait by your equipment.
If you can, score on your mobile phone or please download and print your own score sheet. Download Score-sheet – Six Dozen – Three Dozen  – Five Dozen
If you wish your scores to be recorded, by the club you can use the form below.
Junior archers are welcome but must be capable of observing all of these guidelines.
Leaving the field at Dansfield School.
It is up to the last archer to ensure the equipment has been put away safely and wiped down after doing so.
Take all your possessions to the front of the Performing Arts Building to take them down.
Remember to use the one-way system, leave by heading towards the tennis courts and then to your vehicle.
It is up to the last archer to also ensure that everything is cleared up and locked away safely.
Leaving the Stogursey Indoor Venue.
It is up to the last archer to ensure the equipment has been put away safely and wiped down after doing so.
It is up to the last archer to ensure the electrics are switched off and the building secured.
Please leave the site as quietly as possible and take extra care exiting onto the road.
The last person leaving at night is responsible for closing the field gate.
Other points.
Each archer will be issued with a target face and four target pins which they must bring with them each time they come. (If your target face requires replacing, please let Kevin know in good time who will issue you a new face next time you arrive).
Any target faces or target pins left behind will be discarded as waste.
Toilet facilities at the school are not available. (We do not have access to any part of the buildings at present.).
Toilet facilities are available at the Stogursey venue. Please bring a torch with you.
If you wish to sit, you must bring a chair. (Ours are not to be used).
KEEPING SAFE – PLEASE READ
To enable everybody to shoot safely we and Archery GB have put in place the following, which all archers should adhere to:
Remember, you are visiting either school or farm grounds – safety first.
The School buildings are out of bounds.
If an archer or member of your household has symptoms that might be Covid-19, you must not come to the club as per government guidelines.
Archers must notify the club should they develop symptoms after attending the club.
As we obviously must follow social distancing rules, i.e. a minimum of two metres apart at all times, each boss must only have one archer shooting at it unless you are from one household.
To avoid contamination, archers must only use their own equipment and not the club's, except for bosses.
Archers who normally use club equipment will be issued this on their first booked session and will then be responsible for it, bringing it back each time they come to the club.
Do not share equipment.
In the interests of Covid-19 contact tracing – scan the NHS QR code at either venue each time you visit.
Face coverings must be worn inside except when shooting.
Archers must wear fabric or latex gloves to remove their own arrows – they can use their own arrow puller.
If you do not have your own gloves the club can provide latex gloves.
Please bring your own Hand Sanitiser. The club has only limited supplies.
Hand sanitising should be as a minimum done at the start, during, and at the end of the session.
Clean and wipe down yours and our equipment after your session – it must be clean for the next group of archers.
Please take home all your equipment, gloves, waste etc.
Under Archery GB Rules two archers must be present when shooting is taking place.
Book your Session
Before you book it is essential, you read all the details on this page.
Should you have any questions before booking, please contact us.
We want you to enjoy your archery and look forward to when we can return fully.
However, we do want all our archers
and their families to remain safe.
FACEMASKS – HAND SANITIZER – SOCIAL DISTANCE
FACE MASKS MUST BE WORN INSIDE.
Except when actually shooting.