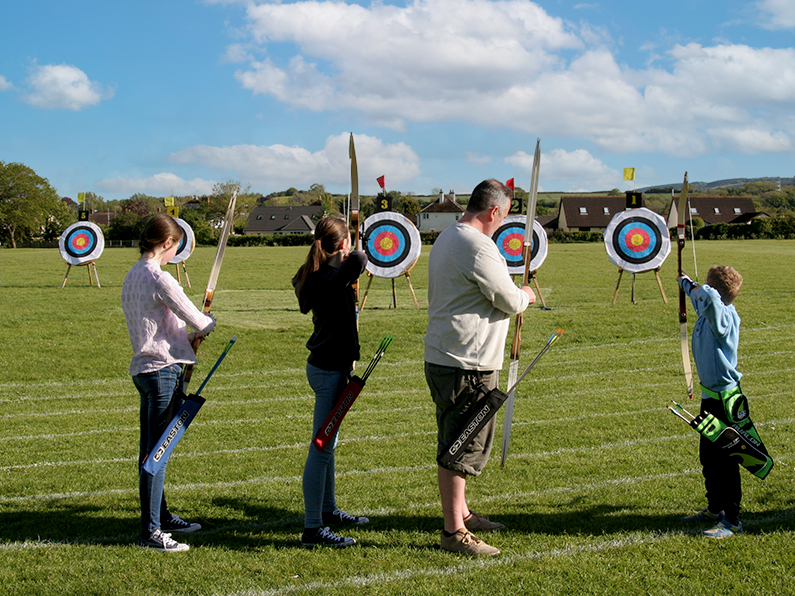 Juniors, as well as adults, are most welcome.
Where a junior is booked on a course it is great if a parent also takes the course to provide support for the junior as you both develop your archery skills. We also encourage parents to become involved in volunteering at the club.
It is a requirement that a parent/carer accompanies any person under 16 or vulnerable adult.
For anyone starting in archery, the Start Archery website is a useful resource.
Equipment
Equipment is provided during the beginners' course and you are welcome to use our equipment for up to three months after the course at which time you will be given advice on which equipment to purchase.
Please avoid buying any equipment before the course as there is the possibility that it will not be suitable for you.
Archery is fun
And if you want it to it can be competitive as well. To get you off to a good start we have put together our beginner's course run under Archery GB guidelines
We run several Archery Beginners courses during the year here in West Somerset. You can select your preferred date when completing the booking form.
Family Friendly
Archery is a great family sport where everybody can take part and our classes are of mixed adults and juniors.
you will be shooting during your very first session.
All aspects of shooting and equipment are covered.
All equipment is supplied
Safety aspects will be covered in detail.
During the course, you are insured by Archery GB (The Governing Body)
On completion of the course, you will be invited to become a full member of the club.
We have a thriving club of all ages and abilities. Once a full member, you can choose to shoot for recreational purposes or go on to enter tournaments. Field shooting is also a possibility where the club has access to woodland.
Course Details
The course fee is £50.00 and runs over five weeks. Each session is approximately one and a half hours. Outdoors during the Summer, and indoors during the winter. booking is essential as places on each course are limited. Gentle rain does not usually stop us but like all outdoor events, we may due to inclement weather adjust the shooting dates.
The course will be held at Danesfield CofE School, Williton, TA4 4SW.
Our experienced coaches will get you shooting on the first session and gradually increase your knowledge and skill over the next three weeks and you will graduate with a certificate and be offered club membership.
Course fee £50.
Book your Archery Beginners Course
To book your place on the Archery Beginners Course please complete the form below.
The course will take place at Danesfield CofE School, Williton, TA4 4SW. Should you have any further questions before booking please contact us.
*Note: Your first quarters' shooting fee is included however your membership fee is payable to join.